100s Of Flights Cancelled As Protesters Flood Hong Kong Airport; Chinese Troops Gather In Shenzen
Protesters flooded Hong Kong's airport, one of the busiest in the world, on Monday, forcing authorities to cancel more than 100 flights as demonstrators expressed their anger over the violent police response to protests the night before.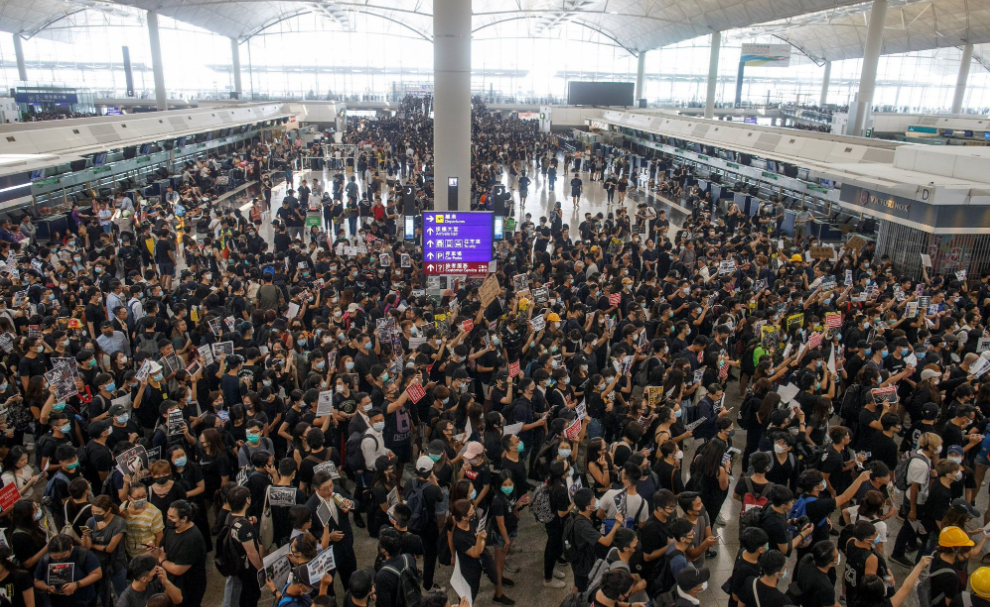 Video of the airport terminal showed thick crowds chanting protest slogans.
Breaking: Hong Kong airport says all flights are now cancelled because of protests. #HongKong pic.twitter.com/SY2JeCcgVf

— Alex Macheras (@AlexInAir) August 12, 2019
This is the Hong Kong airport, again.

Flights have been canceled, and China has reportedly called the protests that have swept Hong Kong terrorism.

But the people will continue to fight for freedom.#FreeHongKong

— Joshua Potash 🆘 (@JoshuaPotash) August 12, 2019
Amid the unrest, Cathay Pacific, Hong Kong's flagship carrier, has reportedly fired two employees and suspended a pilot for participating in the protests. The airline said over the weekend that it would 'comply with a directive from China's aviation authority'. According to the FT, Cathay's move was "the starkest sign yet of Beijing's growing readiness to make high-profile businesses choose between the protesters and the government. The company's shares were off more than 4% in recent trade.
Per the NYT, the protesters gathered throughout the day, first filling up the arrival halls, before expanding upstairs to the departure halls. Monday's protest is a continuation of a three-day peaceful sit-in at the airport which began on Friday. It bore none of the violence that demonstrations on Sunday night had, where police fired tear gas inside a subway station and charged at protesters on an escalator.
Some incoming flights were being diverted to Taiwan.
Cathay Pacific Airways flight CX527 from Tokyo NRT to Hong Kong diverted to Kaohsiung due to airport closure. https://t.co/8iKyGVZsmp

— 航空情報 AirPlaneInformation (@APInfo_bot) August 12, 2019
Noel Tse, a 29-year-old nurse, said she participated in the sit-in at the airport because she thought the police had acted to aggressively on Sunday. "As a member of Hong Kong, this incident is no longer a political issue," Tse said. "It is a battle between right and wrong."
But even more ominously, over the border in Shenzen, the Chinese city that lies directly across from Hong Kong, Chinese People's Liberation Army forces were building up ahead of what appears to be a "apparent large-scale exercise," according to the Global Times. "Numerous" armored personnel carriers, trucks and other vehicles of the paramilitary police were seen heading towards Shenzhen over the weekend. That means the long-awaited military intervention from the mainland could be just around the corner – something that the Hong Kong people have condemned.
Though a military conflict in Hong Kong would certainly rattle global markets. Remember what Steve "Big Short" Eisman said last week. His biggest fear right now are the Hong Kong protests, which he says could endanger any kind of trade deal with China and hurt the global economy. "If things escalate even further in Hong Kong, that would have a real impact back on the global economy."
Please follow and like us: