Benghazi Car Bomb Attack Targets UN Officials, Leaving 2 Dead & 10 Wounded
The expanding chaos of the renewed war in Libya, increasingly a 'failed state' if there ever was a prime example of one, now approaching a decade on from its so-called "liberation" in 2011 by US-NATO forces, keeps providing daily and weekly reminders of the Obama-Hillary Clinton legacy of 'humanitarian intervention'. 
On Saturday what is being reported as either a car bomb or possibly a roadside bomb ripped through a neighborhood in the eastern Libyan city of Benghazi near United Nations offices.
The blast killed two UN staff, identified as United Nations Libya mission (UNSMIL) guards, with an additional ten people wounded, some among them children, according to Reuters.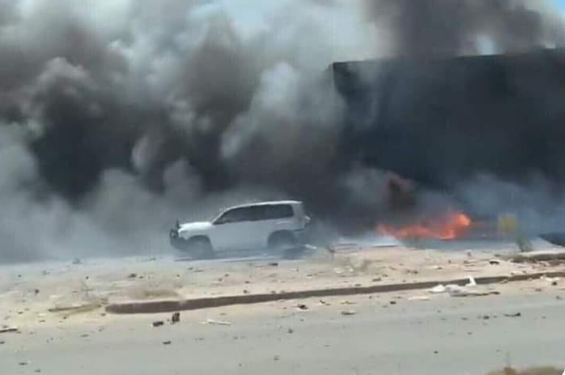 The vehicle was detonated outside a busy shopping mall at a peak time of traffic, given locals are preparing to celebrate the Muslim holiday of Eid al-Adha.
The Associated Press reported the following details:
The place is close to the offices of the U.N. Support Mission in Libya. Footage circulated online shows what appear to be burnt U.N.-owned vehicles, while thick smoke rising in the sky.
#Libya– photos showing the aftermath of the IED attack against a UNSMIL vehicle in Hawari, southern #Benghazi. At least 8 casualties reported so far as a result of the incident. pic.twitter.com/aMIPKm87nf

— Oded Berkowitz (@Oded121351) August 10, 2019
No one claimed responsibility for the terror attack in the immediate aftermath, and it appears the UN staff and vehicles were specifically targeted. 
عاجل بنغازي
انفجار سيارة مفخخه بالقرب من مصرف التجارة و التنمية في الهواري بنغازي وانباء عن وجود ضحاية pic.twitter.com/DtwqOT7HCL

— Wagak Original (@wagak_original) August 10, 2019
The death toll from the renewed civil war which has involved Gen. Khalifa Haftar's Benghazi-based LNA attempting to seize the capital of Tripoli from the UN-backed GNA is now in the thousands, with over 105,000 displaced over the past half-year of conflict, according to UN numbers. 
Though long ignored in the mainstream media, Libya increasingly looks like Iraq circa 2005, with a recent significant uptick in mass casualty causing bombings and terror attacks in crowded cities. 
Please follow and like us: