Live updates: Trump impeachment inquiry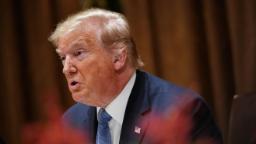 Republicans are repeatedly highlighting that Rep. Adam Schiff, chairman of the House Intelligence Committee, is absent from today's hearing (even though the hearing is being convened by the House Judiciary Committee and not the intelligence panel).
"Adam Schiff, when he told us he wasn't going to come, instead, hide behind his staff, he also told us that we're going to keep investigating," Rep. Doug Collins, the top Republican on the Judiciary Committee, said in his opening statement.
"Unfortunately, today, the witness who is supposed to be the star witness chose to take a pass, and let his staff answer for him," Collins added.
It previews Republicans' strategy in the hearing of questioning how the impeachment process has played out. Collins made the point that the House Judiciary Committee hasn't heard from any fact witnesses, only law professors.
Republicans have said Schiff should appear as a fact witness, believing he could shed light on the impeachment inquiry's beginnings and his dealings with the whistleblower whose complaint first sparked questions about President Trump's dealings with Ukraine.
One thing to note: There isn't any requirement that Schiff be at today's hearing, and Democrats on his committee are being represented by their staff attorney. Intelligence committee Republicans are also being represented by their lawyer.
And while the top Republican on the Intelligence committee, Rep. Devin Nunes, is in attendance at today's session, he's also not expected to testify (despite questions about his own dealings with Ukraine).
Watch more:
Please follow and like us: