In pictures: The New Hampshire primary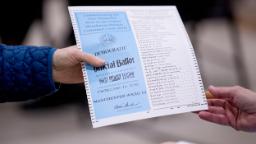 Updated 11:38 PM ET, Tue February 11, 2020
The nation's first Democratic primary goes to Bernie Sanders, just as it did four years ago.
CNN has projected the Vermont senator as the winner in a close New Hampshire race, holding off former South Bend, Indiana, Mayor Pete Buttigieg. US Sen. Amy Klobuchar is projected to finish in third.
Former Vice President Joe Biden and US Sen. Elizabeth Warren were among those who didn't make the 15% threshold needed to earn delegates.
Two Democratic candidates — businessman Andrew Yang and US Sen. Michael Bennet — announced Tuesday night that they were dropping out of the race.
Please follow and like us: