Speaking times at the CBS Democratic debate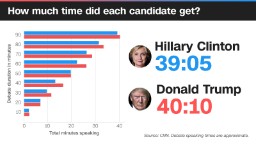 (CNN)We tracked approximate speaking times for each candidate during the tenth Democratic presidential debate. Sen. Bernie Sanders had a clear lead in speaking time with nearly 16 minutes, followed by Sen. Amy Klobuchar, former New York Mayor Michael Bloomberg and Sen. Elizabeth Warren, all at more than 13 minutes.
See the full breakdown below.
Please follow and like us: