Former acting Navy secretary's trip to Guam, which led to his resignation, cost almost a quarter of a million dollars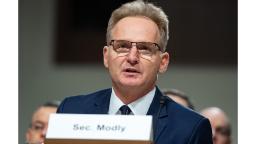 Modly's remarks led to his resignation a day later.
Modly traveled to Guam aboard a C-37B VIP aircraft a modified Gulfstream jet. It costs $6,946.19 per hour to fly and the flight time for the Guam trip was about 35 hours for a total cost of $243,151.65.
The cost of the trip was first reported by USA Today.
This is a breaking story and will be updated.
Please follow and like us: