Senate seeks to quickly pass change to PPP to give businesses more time to use money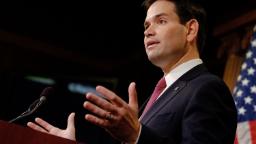 Both parties have faced increased pressure to change the March stimulus law that requires loans to be used within eight weeks, with businesses saying they need Congress to extend the timeframe so they can spread out the emergency aid over a longer period.
Behind the scenes, Democratic and Republican senators are holding intense discussions and trying to quickly pass a measure that would extend the plan beyond eight weeks and are trying to iron out final disagreements about how long business owners can hold onto the loans.
House Democrats plan to advance a bill next week to allow the loans to be used over a 24-week timeframe. But Senate Small Business Chairman Marco Rubio said Thursday "I don't think we're going to be able to go that far and get unanimous consent." Instead, Rubio said, they are looking at extending the timeframe to 16 weeks.
With the Senate set to take next week off for the Memorial Day holiday, the only way to get quick approval is for all 100 senators to sign off on the plan. Party leaders are having private discussions with their respective caucuses to see if they can get unanimous approval.
"It just extends the time in which people could take advantage of the program. It doesn't add additional money to it," Senate Majority Whip John Thune, a Republican from South Dakota, told reporters.
If there are no objections, it will pass the Senate on Thursday, Thune said.
Thune also said he expects the Senate to be on recess next week despite warnings by vulnerable Republican Sen. Cory Gardner that he would try to prevent the Senate from going on break before moving on another recovery package. Thune said there's no consensus yet on a way forward on another major package.
Gardner and Senate Majority Leader Mitch McConnell are discussing the scheduling matter, he said.
Maryland Sen. Ben Cardin, the top Democrat on the committee, said he hoped it could pass, but warned it may not happen today.
The proposal comes as Democrats and Republicans have heard from businesses around the country that they need more than eight weeks to use the funding including in PPP. Lawmakers on the House have their own proposal to extend how long businesses have to use the money to rehire workers, but the House bill has received lukewarm reception in the Senate.
The bill also comes as there is widespread disagreement in the Senate and even within the Republican Party about how and if lawmakers need to appropriate more stimulus funding.
Please follow and like us: