State Department inspector general was investigating if Pompeo made staffer walk his dog and run other personal errands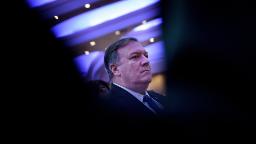 The revelation will likely add new scrutiny to Trump's firing of Steve Linick on Friday evening — the latest in a series of dismissals of independent government watchdogs tasked with oversight. A senior State Department official previously confirmed that Pompeo made the recommendation that Linick be removed, but they did not know the reasons why.
NBC News first reported the details of Linick's investigation. CNN reached out to the State Department for a statement but has not yet received one.
News of the nature of Linick's investigation comes after the chairman of the House Foreign Affairs Committee, Eliot Engel, had said Linick was investigating Pompeo, though the New York Democrat did not provide any further details about the scope of this investigation.
The dismissal drew immediate condemnation from top Democrats who accused the President of engaging in a pattern of retaliation against public servants charged with oversight of his administration.
Trump has repeatedly shown hostility to any independent scrutiny from within the government, often targeting officials he sees as holdovers from President Barack Obama's administration or part of the so-called deep state, which he believes is aligned against him.
Trump also recently removed the acting inspector general for the Defense Department, Glenn Fine, from his post as chairman of the Pandemic Response Accountability Committee tasked with overseeing $2 trillion in emergency coronavirus funding.
This is a breaking story and will be updated.
Please follow and like us: