South Carolina GOP censures Rep. Tom Rice after his vote to impeach Trump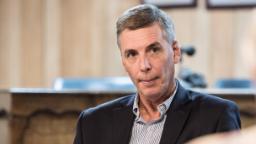 "We made our disappointment clear the night of the impeachment vote. Trying to impeach a president, with a week left in his term, is never legitimate and is nothing more than a political kick on the way out the door," South Carolina GOP Chairman Drew McKissick said in a statement Saturday afternoon. "Congressman Rice's vote unfortunately played right into the Democrats' game, and the people in his district, and ultimately our State Executive Committee, wanted him to know they wholeheartedly disagree with his decision."
Rice was one of 10 House Republicans who voted to impeach Trump earlier this month after the January 6 attack on the US Capitol, charging him with "incitement of insurrection." That small minority of the GOP conference has faced a wave of anger at home, with Republican officials, donors and voters condemning their votes and primary challengers launching their campaigns early ahead of 2022.
Last week, the Arizona Republican Party voted to censure Gov. Doug Ducey, former Sen. Jeff Flake and Cindy McCain, all of whom opposed Trump's efforts to overturn President Joe Biden's victory, or in the case of Flake and McCain, endorsed the Democrat before the election.
Rice, a Republican from a conservative district who was not expected to vote for impeachment, said in a statement after the vote that it was the President's response to the riot that led him to cross the aisle.
"I have backed this President through thick and thin for four years. I campaigned for him and voted for him twice. But, this utter failure is inexcusable," the South Carolina Republican said.
On Saturday, Rice's state party made clear that his own behavior was inexcusable — yet another sign of how Trump, and loyalty to him, is what animates today's Republican Party. Forty-three members of the South Carolina GOP's executive committee voted in favor of the resolution, with no members against and two abstaining, according to South Carolina Republican Party spokeswoman Claire Robinson.
Rice's office did not immediately return a request for comment.
The congressman's 7th Congressional District covers the eastern part of the state including Myrtle Beach and bordering North Carolina. He won reelection in November with more than 61% of the vote.
McKissick, immediately after the impeachment vote on January 13, put out a statement saying, "We completely disagree with this sham and to say I'm severely disappointed in Congressman Tom Rice would be an understatement."
This story has been updated with additional background.
Please follow and like us: