Only A Handful Of States Are Heeding Biden's Call To Open COVID Jabs To All Adults
Oddly, the first two states to heed President Joe Biden's call to make COVID jabs available to all American adults (part of a self-serving push meet the administration's lofty vaccination targets) are both deep red: Mississippi on Monday is about to join Alaska by making COVID jabs available to all adults after Gov. Tate Reeves released the news on Twitter.
Almost 10,000 appointments available statewide over next 3 weeks. If you're over 50, lock them down TODAY!

Starting tomorrow, ALL new appointments will be open to ALL Mississippians. Get your shot friends – and let's get back to normal!

— Tate Reeves (@tatereeves) March 15, 2021
Notably, Mississippi was also one of the first states (following in the footsteps of Texas) to lift all COVID-related restrictions. Nevertheless, the state has seen new cases continue to decline as vaccines have become increasingly available. Some say there is room for optimism. According to the NYT, the state is outperforming all of its neighbors except for Louisiana, even as Mississippi and the rest of the Deep South lags behind other, wealthier states. As of Sunday, about 20 percent of Mississippians have received at least one shot, and 11 percent have been fully vaccinated.
Although Mississippi lags most other states in the share of its population that has been vaccinated so far, it is doing better than all of its neighbors except Louisiana.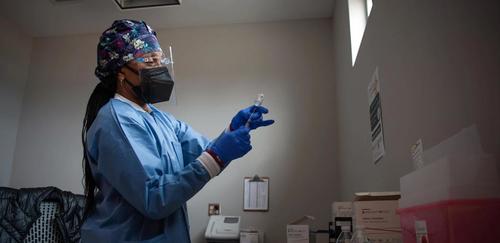 Reeves' move to universally open vaccine eligibility is the latest move in his efforts aimed to return the state to normalcy, which started with the removal of all state-imposed mask mandates and most COVID-related restrictions on business operations.
The state had already opened eligibility further than most states, to cover everyone 50 or over. Governor Reeves urged older residents to book appointments as soon as possible.
Other states have pledged to lift restrictions in short order: Gov. Gretchen Whitmer of Michigan has said that her state will move to offer vaccines to all adults by April 5, about a month before Biden's deadline. New York has lowered the age limit to 60, which is lower than most other states, and is expected to cut the age limit further (presumably as more women come forward to accuse Cuomo of sexual improprieties).
Meanwhile, officials in Washington DC said they would drop restrictions on May 1, in accordance with Biden's request.
Fortunately, the US has enough supplies of the Moderna, Pfizer-BioNTech and JNJ vaccines to cover all American adults (the vaccines haven't yet been approved for children), because more European countries are halting use of the AstraZeneca vaccine over a growing number of reports claiming there's a link between the vaccine and rare blood clots.
Given the problems with the AstraZeneca jab, the US will likely continue to outperform Europe in the vaccine race.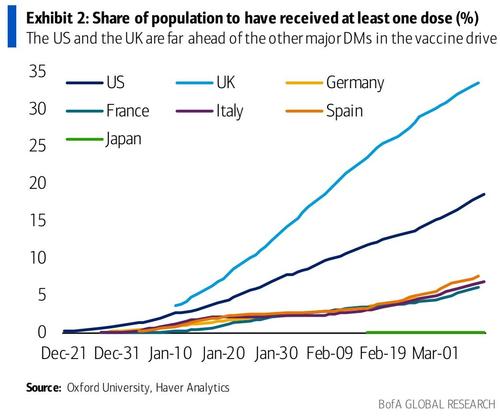 US effort continues to outpace Europe, According to BofA, as of Wednesday the US had administered 95.7MM COVID-19 vaccine shots, with 18.7% of the population having received at least one dose. Distribution is outperforming our expectations and there should be further upside with the one-shot JNJ vaccine becoming available just last week.
Please follow and like us: