Afghanistan latest news as Taliban forces take Kabul: Live updates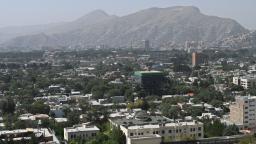 Amid chaotic scenes at Kabul international airport, video has emerged of several people clinging to the fuselage of a US military C-17 aircraft as it taxied Monday.
There are scores more people watching or following the plane, some of them underneath its engines. Other video shows a US military Apache helicopter swooping low over the tarmac in what appears to be an effort to disperse the crowds.
Separate video circulated on social media shows a US C-17 soon after take-off.
At least two objects, or people, can be seen falling to the ground as the plane gains altitude.
CNN has not been able to independently confirm the images.
People who say they witnessed the event have posted on social media and spoken to other media outlets, saying that people who were clinging to the outside of the aircraft had fallen to the ground as the plane took off.
Another video shows a C-17 ascending over a Kabul neighborhood. At least one person or object appears to fall from the fuselage. Seconds later another person or object appears to fall.
Local people posted video and images of at least one body that they said had fallen from the sky and landed on the roof of a building, according to social media posts.
CNN cannot independently verify that anyone was still clinging to the aircraft when it took off— and it's not known if it was the same plane, or whether the crew was aware that people were clinging to the plane at all.
Multiple US Defense Officials told CNN they could not confirm the incident.
CNN's Tim Lister, Vasco Cotovio, Gianluca Mezzofiore, Anna Coren, Jonny Hallam and Barbara Starr contributed reporting to this post.
Please follow and like us: